Just like you and me, your brand has a personality of its own—a unique identity made up of characteristics, values, beliefs, and goals that show your audience what your brand is all about. It's what makes you memorable and paves the way for lasting and meaningful connections with your audience that lead to brand loyalty.
But that personality won't shine through on its own. To be truly unforgettable, you need to communicate your individuality to your audience. While there are different ways to do this, one of the most effective strategies is sensory branding.
Sensory branding is a type of marketing that leverages the senses to tell your brand's story. It uses sights, sounds, smells, tastes, and feels that are evocative of your brand to connect with your audience on an emotional level and leave a lasting impression.
It's an effective strategy because our senses, emotions, and memories are all intimately linked. Senses have the power to reconnect us with experiences from our past and evoke strong emotions associated with those specific times and places.
The smell of rain hitting the hot pavement can transport you back to those worry-free childhood summers filled with ice cream, fireworks, and backyard barbecues; the feel of hot sand between your toes can bring back memories of your romantic honeymoon in Mexico; and the taste of home-made chocolate chip cookies can remind you of your grandma and the times she'd let you eat the cookie dough right out of the bowl.
You can leverage the connection between your audience's senses, emotions, and memories to create a positive and memorable impression of your brand that allows you to stand out from the competition and keep customers coming back again and again.
Creating a Sensory Experience
There are many famous examples of brands using the senses to create memorable impressions on their audiences. For example, it would be hard to find someone who can't recognize the crisp snap of a KitKat or the smell of McDonald's french fries. They've mastered the art of leveraging the senses in their marketing to create unforgettable brand associations.
But while these instances are great at showing the powerful connection between the senses and your memory, they aren't demonstrative of the all-encompassing, immersive nature of sensory branding—at least in the way Miss Details conceptualizes it.
Different from marketing, which has to do with the specific strategies used to promote your business, branding concerns the long-term, emotional impact you have on your customers. If marketing is what you do to get customers to engage, branding is what you do to keep them coming back.
Therefore, sensory branding is about creating an immersive brand experience that has the power to shape your audience's perception of who you are. It goes beyond the most common thought-of senses (like sight and sound) and amplifies your brand's personality through multiple sensory stimuli to create a positive and memorable experience for your customers. 
The more you can infuse your brand's identity into the customer experience through sensory stimulation, the easier it is to create stronger emotional connections with your audience. Think of it as creating sensory "touchpoints"—the more points of stimulation, the stronger the impression of your brand.
With that in mind, how can you start leveraging the senses to integrate your brand's personality into the customer experience? Here are some examples based on real brands to give you an idea of how to create an effective sensory branding strategy.
Sensory Branding Through Design
There are many unique ways you can engage the senses through design, not only in physical spaces, but also in the digital realm. The use of color, pattern, texture, and more can evoke a multitude of sensory experiences.
For example, let's say you're a human-focused accounting firm that values compassion, connection, respect, and trust and serves innovative, open-minded, and humble business owners dedicated to using their companies as a force for good. 
How could you implement that personality into the sensory design of both your office and website?
Physical Spaces
Sight:

Bright and open office space that makes customers feel welcome

Sound:

Warm and inviting background music from up-and-coming artists

Touch:

Comfortable furniture and fabrics that invite you to stay as long as you'd like

Smell:

Decorative white flower bouquets that create a calm and pleasant ambience

Taste:

Complimentary coffee made with ethically sourced beans from different regions of the world with a side of fun flavored syrups and spices from which to choose
Online
Sight:

Images showing women business owners working together happily

Sound:

A promotional video narrated by a woman with a soothing and balanced voice

Touch:

Tone-on-tone, geometric textures that evoke feelings of reassurance

Smell:

Images of desks or tables with vases of lavender

Taste:

Images of colleagues conversing over a cup of coffee
Sensory Branding Through Messaging
Design is only one channel through which you can engage the senses. Your messaging is also an opportunity for you to create a sensory experience evocative of your brand's personality.
For example, imagine you specialize in wellness training for professionals who are stressed out by their jobs and are looking for ways to increase their health and wellbeing. Overall, your aim is to be as helpful, inspirational, and empowering as possible in your work with clients.
Here are some ways you could integrate the core of your business into your messaging in ways that engage the senses:
Sight:

Easy-to-read paragraphs accompanied by plenty of open space and happy, soothing graphic

Sound:

Accessible vocabulary and conversational tone that flows together

Touch:

Word choices that evoke feelings of warmth and positivity

Smell:

Descriptive language that is inspired by or references calming scents found in nature, such as lavender or peppermint.

Taste:

Similes and metaphors involving foods with energizing qualities, like citrus or cinnamon.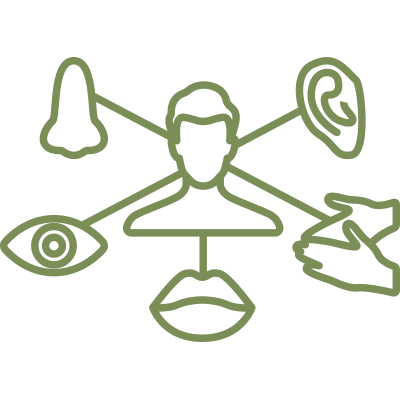 Elevate Your Brand Through Sensory Branding
Even with examples, it's not always easy to translate the essence of your brand into a complete sensory experience. Our Sensory Branding Workbook can make the process easier by guiding you through an in-depth reflection on the sensory aspects of your brand. 
Through guided exercises, you'll develop a deeper understanding of your brand's sensory profile that you'll then be able to leverage to create a memorable, immersive brand that your audience will never forget.
Don't want to miss out on our articles and insights?
Sign up for the Miss Details newsletter today.